Welcome to Heavenly Kids Academy
Welcome to Heavenly Kids Academy, an outreach ministry of Community Praise Center, Inc., serving children and their families since August 2001. Heavenly Kids Academy is dedicated to providing quality Child Care, Preschool, Voluntary Pre-Kindergarten (VPK), Afterschool Programs including Tutoring, as well as seasonal enrichment camps with strong emphasis on Math and Reading all year long. Our aim is to help to foster social, emotional and educational development in a wholesome Christian environment.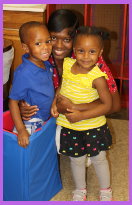 All meals are prepared meeting USDA guidelines. Food allergies must be documented on the appropriate forms provided by USDA meal times below:
Breakfast: 8:00 - 8:45 AM
7:15 - School van riders
Lunch: 11:00 - 12:00 PM
Snack: 2:15 - 3:30 PM

The one year old class will have the chance to explore their world through art, music, science, nature, dramatic play, books, manipulative play blocks, cooking, and many outdoor opportunities, while a safe environment.
Children will be encouraged to try new experiences, follow simple directions, and make positive independent choices

Calendars are updated annually and posted. We encourage celebrations.
Speak to the teacher in advance to plan a classroom party.